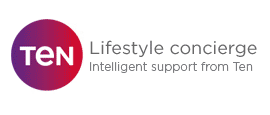 Fitzroy House 355 Euston Road London

0845 020 5260

No specify serve day
CONTACT OWNER
Ten Lifestyle Concierge

Ten Lifestyle, a pioneer in the concept of concierge services, was founded in 1998 by Alex Cheatle and Andrew Long.  One of the leading concierge services in the world, it provides services to over 300,000 clients in 145 countries.
Available round the clock and all year round, they satisfy a vast array of request with the help of experts who speak 20 languages. Ten Lifestyle has a fantastic network of contacts and insider know-how to get you that coveted access to top hotels, restaurants or VIP events.
It has employees representing over 30 nationalities giving a good understanding of various cultures and contacts all over the world. Ten has catered to well over a million requests till date. The main areas of expertise include travel, restaurants, tickets and retail.
Ten can offer its members great deals with airlines, tour operators and luxury hotels; access to sold out events and the best tickets; priority access to over 900 of the best restaurants in the world; get you the best retail deals and help to choose and deliver gifts at best prices.
You can choose from monthly or annual memberships. If you are a VIP member, a personal lifestyle manager is dedicated to you, who will offer bespoke services creating perfect tailor-made solutions. Services are offered to private individuals and through corporate customer loyalty schemes. Ten's clients include Coutts, Barclays and Citi.