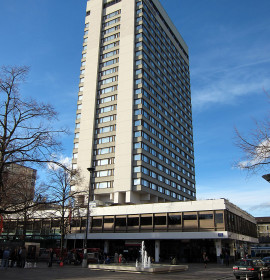 Schulstrasse 44, 8050 Zürich, Switzerland

+41 44 317 31 11

No specify serve day
CONTACT OWNER
Swissotel Zurich
Swissotel Zurich
The Swissôtel Zürich, formerly known as the Hotel International Zürich, is a luxury hotel in the Swiss city of Zurich. The hotel is located in the  Oerlikon quarter  of the city, directly opposite Zurich Oerlikon railway station , and roughly half-way between the city centre and Zurich Airport.
The hotel is part of the chain managed by Swissotel Hotels and Resorts, which is based in Zürich and is part of the FRHI Hotels and Resorts  group. It has 350 guest rooms and a height of 85 metres, making it the tallest hotel in Zürich.
As well as hotel and conference facilities, the hotel also contains a bar and restaurant, a branch of the Starbucks  coffee chain, a hairdressers and a confectionery shop.