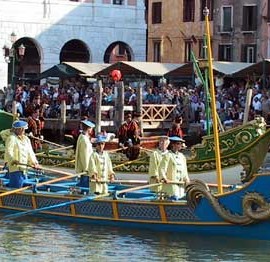 CONTACT OWNER
Romantic gondola serenade tour

With this romantic gondola serenade tour you will have the opportunity to live a unique experience in contact with an ancient Venice tradition: a plunge into the past of this charming city to live the magical experience of a gondola ride in Venice accompanied by an authentic Venetian gondolier.
A fascinating and romantic gondola ride accompanied by traditional melodies in the background… with Gondola Serenade you can spend unforgettable moments and fully understand why Venice is considered one of the most romantic cities in the world.
Venice is best admired from the water, and preferably with a scenic Venice gondola ride and serenade.
Ideal for easy navigation along the canals and the lagoon of Venice, the gondola best sums up the true spirit of this romantic city. Its very structure seems designed to fit Venice, from the particular asymmetrical shape to the convenient maneuverability that allows for easy navigation along the narrow canals of Venice. In addition to this, the iron comb bow of the gondola, which is aimed at balancing the boat, is a true symbolic representation of Venice: the shape is reminiscent of the Doge's hat, the bow between the highest tooth and the tip of the comb represents the Rialto Bridge and the 'S' that joins the arch of the Rialto Bridge to the bottom of the hull symbolizes the Grand Canal, not forgetting the bars representing the districts of Venice!
Those steering the gondola belong to a real elite of Venice, the gondolier's guild, in which customs and traditions of this profession have been handed down for centuries.
Water is integral part of the landscape and history of Venice, as well as its distinctive feature for excellence worldwide. With this tour you can get in touch with the enchanting atmosphere of this romantic city: a more traditional and deeper way to fully live the magic of a night in Venice.
The Gondola Serenade tour will begin at the gondola station of Santa Maria del Giglio (near the Hotel Gritti), where you will board the gondola and join other boats to sail together around a boat where musicians and singers will be playing. Thisancient custom of Venice was at its maximum in the eighteenth century, with the so-called freschi boat rides from which a real musical genre has derived the so called da batelo singing.
Aboard a typical gondola in Venice, an unprecedented and fascinating tour to experience all the charms of this romantic city. You will enjoy a magical night in Venice thanks to a tour that will give you intense emotions and memories.