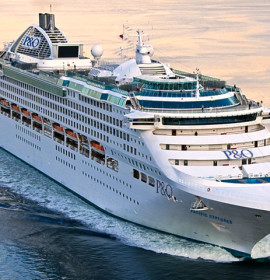 CONTACT OWNER
Pacific Explorer

Pacific Explorer
The ship's Australian cruise itinerary program is yet to be officially released (both as routes and dates). The new ship is expected to offer voyages between New Zealand and Australia, as well as South Pacific Islands and itineraries between Asia and Australia leaving out of Fremantle, Brisbane, Sydney, Auckland.
Passenger decks:11
Cabin grades number: 20
Total number of cabins: 999 (of which 38 Suites, 372 balcony rooms)
For more information on facilities and cabins see the review of P and O Pacific Explorer deck plans at CruiseShipDeckPlan.com.
Dining Room Restaurants (could be renamed): Waterfront, Dragon Lady (Asian), Angelo's (Italian)
Restaurants and food bars: The Pantry (buffet), Salt Grill (specialty), Cellar Room (winery), Chef's Table (specialty).
Lounges & Bars: (names to be announced)
Amenities: Complimentary 24-hour Room-Service, Internet/WiFi access, laundry/self-serve laundromats.
Entertainment: Spa & Fitness, 4 pools, 5 jacuzzis, Library, duty-free shops, deck games (chess, Shufflleboard, Golf Net cage).
The P&O Australia cruise ship Pacific Explorer did a 20 years of service for Princess Cruises under the name Dawn Princess. In early 2017, the ship will be extensively refurbished – redesigned as facilities, renovated and upgraded with new amenities. Then it will be transferred to the P&O Australia's fleet to join there the line's other two newly acquired from Holland America ships Pacific Aria and Pacific Eden.