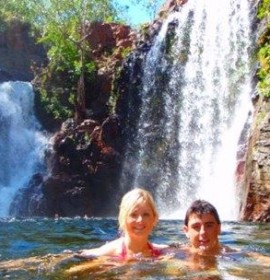 CONTACT OWNER
Kakadu National Park and Arnhem Land Explorer Tour

Kakadu National Park and Arnhem Land Explorer Tour from Darwin
Immerse yourself in the cultural heritage and diverse landscapes of Australia's 'Top End' on this 3-day tour from Darwin. In World Heritage-listed Kakadu National Park, go croc spotting on a Yellow Water billabong cruise and admire ancient Aboriginal rock art. Delve deeper into indigenous history with a 4WD tour to Arnhem Land, where you can try your hand at bush survival techniques and glide down the East Alligator River with an Aboriginal guide.
3-day luxury coach tour exploring the highlights of the Top End including Kakadu National Park Travel to the isolated and pristine Arnhem Land by 4WD Enjoy a 1.5-hour Yellow Waters cruise Cruise along the East Alligator River Lunch is included on all three days Plenty of photo opportunities 2 nights accommodation in your choice of budget, standard and superior hotels Hotel pickup and drop-off English-speaking guide
Venture off the beaten path to explore highlights of Australia's northernmost section, known as the Top End. On this diverse, 3-day tour from Darwin, begin by exploring Kakadu National Park, honored by UNESCO as a World Heritage site thanks to its remarkable cultural significance and biodiversity. See saltwater crocodiles and a variety of birdlife on a cruise through the Yellow Water billabong, and marvel at ancient Aboriginal cave paintings in a 'desert museum.' In isolated Arnhem Land, learn about the original inhabitants' strong connection to the land as you visit sacred sites and settlements with an Aboriginal guide, learn bush hunting techniques and encounter native wildlife on an East Alligator River cruise. Travel by luxury air-conditioned coach and a 4WD vehicle (in Arnhem Land), and choose from three different overnight accommodation options to suit your budget and style. The tour includes all park fees, hotel pickup and drop-off in Darwin and a delicious lunch each day. Please see the Itinerary for details on each day of the tour and accommodation options.