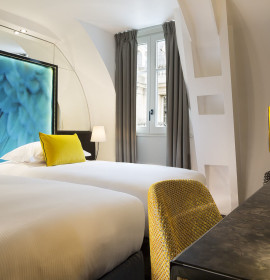 16 Rue de Sèze, 75009 Paris, France

+33 1 47 42 69 12

No specify serve day
CONTACT OWNER
Hôtel de Sèze
Hôtel de Sèze
In the chic area of La Madeleine, near the charming Avenue de l'Opéra, Hôtel de Sèze invites you to stay in an elegant 4-star hotel in the heart of Paris.
Wake up in Paris in a chic and spacious room inspired by nature. Enjoy the beautiful Parisian atmosphere full of magic and comfort.
An elegant atmosphere, a quiet setting and high quality services are the highlights of this peaceful oasis, at the same time intimate, simple and chic. It is conveniently situated near the Opéra and Palais Royal, Champs-Elysées, La Défense as well as many luxury boutiques of the world's famous fashion capital.
Located near all the major tourist attractions of Paris – Champs-Élysées, Eiffel Tower, Louvre, Notre-Dame, Seine River, Arc de Triomphe, Grand Palais and more – Hôtel de Sèze offers you highly personalized services in a private and sophisticated setting.