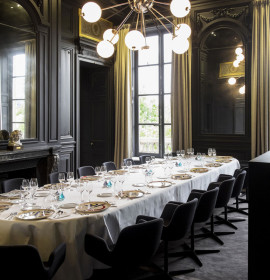 Monnaie de Paris, 11 Quai de Conti, 75006 Paris, France

+33 1 43 80 40 61

No specify serve day
CONTACT OWNER
guy savoy
Each day for lunch, Guy Savoy reserves one table for guests wishing to discover – or rediscover – the delights of a French gourmet restaurant, but who hesitate.
After working at the legendary Troisgros, Guy Savoy previously opened his Paris restaurant in 1980, gaining two stars in 1985. It moved to its current premises in 1987, gaining its third Michelin star in 2002. Guy Savoy now has a series of restaurants, including ones in his own name in Singapore and Las Vegas, and Le Chiberat in Paris.
The restaurant is split into several small dining rooms, ours having just five tables. The room was carpeted, with no music playing, the tables fairly well spaced. In total around 60 diners can be accommodated at once, with 35 chefs catering to the guests. Guy Savoy himself was in evidence, welcoming customers. There was a "prestige" tasting menu at €330 in addition to the à la carte, and that was what we chose.