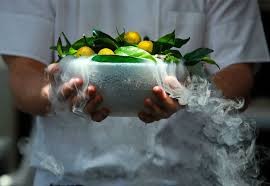 13 Paramithias st. & Salaminos, Keramikos, 10435, Greece

+30 21 0524 2727

No specify serve day
CONTACT OWNER
Funky Gourmet

Greek food reimagined with cutting-edge techniques
In a nutshell: Funky by name, funky by nature. This avant-garde restaurant in Athens' ancient Keramikos neighbourhood gives Greek cuisine a molecular makeover in playful dishes that delight in turning tradition on its head.
Typical dishes: The trio of tasting menus includes dishes such as a snow-white granita that actually encapsulates all the flavours of a Greek salad – tomatoes, cucumber, Feta cheese and olives. Other highlights include a bottarga tartlet made with white chocolate and 'orange explosion' – chocolate spheres filled with orange and doused in liquid nitrogen.
Who are the chefs? Hiliadaki and Roussos met at the Institute of Culinary Education in Manhattan, before working in restaurants in the US, Holland and Spain, including El Bulli. They opened Funky Gourmet with restaurant manager Argyro Hiliadaki in 2009.
What's the vibe? Housed in a neoclassical building, the first-floor dining room is a relaxed space with a simple cream-and-chocolate colour scheme, bare-wood tables and pleasant views of the city.
Once upon a time… Roussos worked in his family's silversmith business, while Hiliadaki picked up a degree in European Studies and Italian from the University of Reading in the UK.