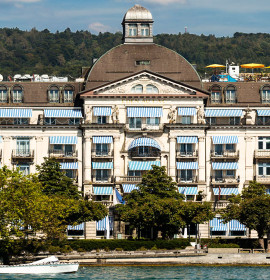 Utoquai 45, 8008 Zürich, Switzerland

+41 44 266 25 25

No specify serve day
CONTACT OWNER
Eden au lac Zürich

Eden au lac Zürich
The Eden Au Lac, built in 1909, is a 5-star hotel boasting a scenic location on Zurich's elegant Utoquai hotel. This first-class hotel of elegance has been hosting international clientèle now for over a century.
Eden Au Lac is a listed historical building structure housing individually designed guestrooms and suites with all the comforts required of a Swiss luxury hotel while still maintaining its old-world charm.
Most of the guestrooms include a beautiful terrace or balcony with striking views of Lake Zurich, the lovely city and distant views of the snow-capped Alps. In addition, modern technical facilities are available, ideal for business guests to make use of.
The Eden restaurant has proudly been awarded with 15 GaultMillau points. The acclaimed culinary creations of renowned French chef; Denis Schmid, present a touch of mouth-watering Mediterranean flavours. An excellent selection of fine European wines is offered to compliment the delicious meals.
When it comes to aperitifs and cocktails, the Eden Bar is popular among music lovers in particular. A regular attraction for guests to enjoy every Thursday evening from October until May is the weekly "Jazz in the Bar" sessions, a big highlight of the city's lively music and social scene.