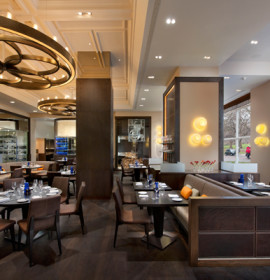 Mandarin Oriental Hyde Park, 66 Knightsbridge, London SW1X 7LA

+44 20 7201 3833

No specify serve day
CONTACT OWNER
Dinner by Heston Blumenthal

When Dinner by Heston Blumenthal opened less than five years ago, many wondered whether it would offer London the same hyper-experimental cuisine as the chef's famous The Fat Duck in Berkshire. But by celebrating bigger, more boisterous flavours, recreating British culinary history and teleporting age-old recipes into the 21st century, Dinner has carved out its very own niche.
Firm signature dishes such as meat fruit (a ball of chicken liver parfait encased in mandarin jelly) and tipsy cake (brioche soaked in Sauternes, brandy and vanilla cream served with spit-roast pineapple) have long gained cult status, but Dinner continues to reinvent the past with ever-evolving creations.
The eponymous chef is a guiding rather than a physical presence here, with Blumenthal's long-term right-hand-man, Ashley Palmer-Watts, in charge of the kitchen. Under his direction, chefs bring forgotten dishes from as far back as the 1300s back to life, using present-day ingredients and modernist cooking techniques. For what seems simple on the plate has been cleverly constructed with the precision of molecular gastronomy by chefs working across four kitchens.
Dinner is not about avant-garde wizardry or table theatrics. Instead it offers flavour-led cooking that showcases 600 years of British cuisine and provides diners with a world-class contemporary dining experience.