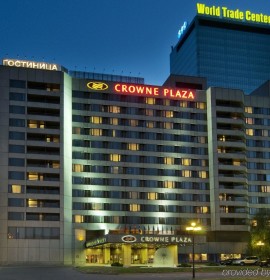 Краснопресненская наб., 12, Москва, Россия, 123610

+7 495 258-22-22

No specify serve day
CONTACT OWNER
Crowne Plaza Moscow - World Trade Centre

Crowne Plaza Moscow – World Trade Centre
The Crown Plaza Hotel Moscow World Trade Centre is a splendid 5-star hotel situated within easy reach of many of the city's popular tourist attractions, such as the Bely Dom, Europe Square and the Expocenter Krasnaya Presnya. Guests can also reach Bagration Bridge, Moscow Zoo and the Pushkin House Museum on Arbat from this welcoming hotel.
The spacious rooms are tastefully decorated and feature all of the in-room amenities necessary for a restful stay while in Moscow. Cable television, wireless internet access and comfortable bedding ensure that guest can relax and unwind after a day of sightseeing or business.
A comprehensive business centre, aqua-complex and fitness centre, saunas and a children's swimming pool cater to those visiting for both business and leisure. In the evenings, guests can enjoy a relaxing drink in the hotel's Red Lion bar or perhaps some fine European dining at the Continental restaurant. There is also a café and an authentic Russian restaurant.