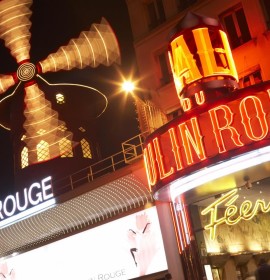 CONTACT OWNER
Champagne at the Moulin Rouge and Seine River Cruise

What You'll Do
Experience a unique view of Paris from on board a glass-enclosed Bateaux Parisiens
See the statues of gargoyles of Notre-Dame Cathedral lit up at night
Sip on Champagne as you take in the splendors of the famous Moulin Rouge
Overview
Experience the magic of Paris at night on a combined cruise of the Seine River and a revue show at the legendary Moulin Rouge. See the city's attractions from the comfort of your river vessel, then toast the famous cancan with complimentary Champagne.
What to Expect
Discover Paris by night on this 4-hour combination tour of 2 of its historic icons. First you will experience the romance of the capital through a glass-enclosed Bateaux Parisiens boat. Climb on board at the Quai de la Bourdonnais on the Left Bank, and glide gently along the river admiring the city's monuments under their magic of their evening illuminations.Pass some of the historic bridges that make Paris so enchanting, and admire the architectural masterpiece of the Notre-Dame Cathedral, as well as the world famous Louvre Museum and Tuileries Gardens.
At the end of your river cruise, climb back on board a luxury coach for the drive to the Moulin Rouge at the foot of Montmartre. Built in 1889 by Joseph Oller, the Moulin Rouge is the spiritual birthplace of the modern form of the can-can, and you will watch the "Féerie" revue, comprising of a troupe of 100 artists, including 60 Doris Girls, and 1,000 costumes of feathers and glitter.
Enjoy magnificent stage settings of rich colors and unique drawings created by Italian artists. Raise a glass of sparkling Champagne to the exceptional acts, and enjoy the eagerly-awaited return of the giant Aquarium, all set to original music from 80 musicians and 60 chorus singers!