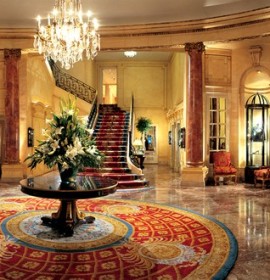 Mikhaylovskaya Ulitsa 1/7, Tsentralny district, 191186 Saint Petersburg, Russia

+7 812 329-60-00

No specify serve day
CONTACT OWNER
Belmond Grand Hotel Europe
Stay in the heart of Saint Petersburg
Set in a stunning central location of St. Petersburg is this 5-star grand hotel that offers elegant accommodation in a fantastic setting.
Belmond Grand Hotel Europe provides luxurious living in rooms that are gracefully designed and equipped with all modern facilities you require.
To ensure a stress free stay, the property offers concierge service, tour desk and ticket service.
There are many nearby theatres, museums and attractions including the Arts Square, the Admiralty, and the Tsar's former Winter Palace. Alternatively, there are a wide variety of shops, bars and cafés along the well known Nevsky Avenue to pass enjoyable moments.
After a day's exploration, return to Belmond Grand Hotel Europe and select one of the 6 restaurants and/or cafés for delightful cuisines and refreshing drinks. The friendly and helpful staff provides 24-hour assistance, making sure your stay is as hassle-free and as pleasant as possible.